In the event you haven't gotten the gist of the site yet, most of us are some some pretty serious meat lovers here, I mean don't get me wrong we will certainly be covering the salmons and sea bass' of the world but it's hard to get our focus off the red meat every time I smell a BBQ burning during the Summer weekends. So in the spirit of the season we're looking at some bold reds to wash down the fillets and ribeyes. But honestly, where's the skill in consulting a sommelier, dropping a hundred bucks, and impressing your friends. What if you were able to get the same reaction with bottle for under $25? Well that's what we've been looking for and we've got three that should get your weekend started.
Colterenzio 2011 Lagrein

Alto Adige, Italy
The Lagrein grape varietal is native to the Alto Adige (or South Tyrol) region of northern Italy. It produces highly acidic and tannic wines that are not so drinkable on their own, but pair well with red meats like beef and venison. A dry, full-bodied wine, the Colterenzio 2011 Lagrein features ripe blackberry flavors with a hint of dark chocolate and spice.
 Casa de la Ermita 2008 Roble


RED
Jumilla, Spain
Roble refers to a wine aged in oak barrels. The Casa de la Ermita 2008 Roble is aged for three months in new French oak before bottling. Composed of 80 per cent Monastrell (Mourvèdre) and 20 per cent Petit Verdot, it features nicely rounded fruit flavors and a touch of spice. Pair it with pork chops, ribs or black pepper steak.
Decoy 2010 Napa Valley Red Wine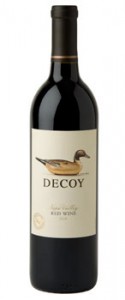 RED
Napa Valley, California
Every few years a new sub-appellation is carved out of Napa Valley. Duckhorn Wine Company's Decoy 2010 Napa Valley Red Wine includes grapes from eleven of the region's sixteen AVAs making it a rather representative blend. On the nose, it offers blackberry, blueberry and raspberry aromas with a hint of cinnamon and nutmeg. In the mouth, this Meritage offers fruity and woodsy flavors that allow it to pair well with venison and wild boar steaks.