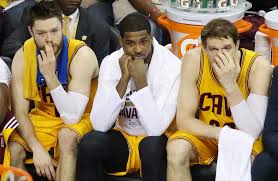 The Golden State Warriors rebounded to even the NBA Finals with the Cleveland Cavaliers at 2 games apiece, and it was clear in the 4th quarter that the Cavs and particularly LeBron James had nothing left in the tank. King James was held scoreless in the 4th quarter for the first time ever in his Finals and only 7 of 22 from the floor and 5 for 10 from the foul line. The team in general only shot 33% from the field and 14% from beyond the arch, and those stats wouldn't beat many teams in the NBA let alone the best team in the Western Conference.
The chess move of the series so far has been Steve Kerr's decision to sit Andrew Bogut down and start former Olympian Andre Iguodala instead. The immediate result was James' worst shooting night of the Finals and the Warriors best offensive performance of them. No doubt going small caught the Cavs off guard and found them scrambling to get quality shots ahead of the 24 second clock several times in the first half. The pace of the game was also much faster and more to the liking on Golden State whom shot much better as team (46% from the field 40% from 3) their best of the series thus far.
After the effort extended in game 3 which left the Cavs on virtual IV, actually Matthew Dellavedova was literally on an IV in the hospital, Cleveland doesn't appear to have much left in the tank and their dearth of quality bench play is quickly becoming poignantly obvious. Delly came back down to Earth in game 4 going only 5 for 23 with 10 points, the alleged X-Factor of the series was X'd out Thursday and the Cavs will need someone other than James to have a similar 'out of body' experience if they are going to get the series back to QLA with a chance to win the title. Unfortunately the tank is on E and there aren't any gas stations on route 66.