Well if last week in College Football was "dog day afternoon" (see our post below) then week six in College Football could go down as the calm before the storm as only three top 25 teams lost, three were idle, and the top eight schools won. Now there was one big upset with Texas upsetting #10 Oklahoma and possibly saving Charlie Strong's job in the process. The other eye opening revelation was how for real Michigan appears to be. After being reprimanded the first week of school on the road in game 1, they have won every game since and the sudden rise of Utah into the top 5 not only makes sense now, it actually improves the Wolverines resume as a 7-point loss against the Utes in their house now looks better than most in the country could do. Conversely, while they have been rapidly climbing the polls including the biggest jump of six places this week up to #12, both of Big Blue's rivals have slowly lost a little of their shine. Ohio State was once the unanimous overall number one now has divvied up the lion's share of the top place votes in the AP to Baylor (13) and Utah (16), and Michigan State is still unbeaten but winning really ugly and paid the price with a 3 place drop in the polls all the way down to 7. The new members of club have come in with a bang as Oklahoma State and Iowa made 5 place moves to stake their claim.
Now we get into the meat and potatoes of the conference schedules, a few rivalry games, and that promises more shakeups coming next week, so in other words this playoff picture has yet to be painted.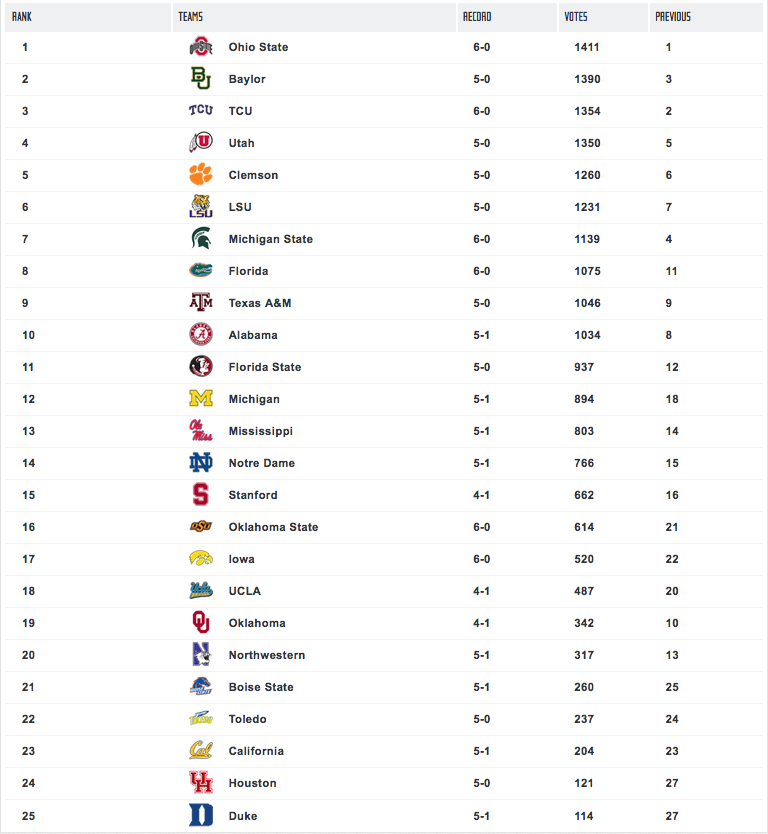 ***************************************************************************************************************************************************
October 5, Rankings – Week of Upsets Clouds Playoff Picture
Every year there's one weekend out of the college year when there are a string of upsets, where there are so many of the top 25 that lose that it almost looks like the season is starting over as what's left in the aftermath doesn't even resemble the pyramid that there to start the season. That weekend came early as half of the top 8 schools lost and sent to the Siberia of the polls as a result of their actions. #3 Ole Miss, #6 Notre Dame, #7 UCLA, and #8 Georgia all got knocked from the ranks of the unbeaten and top 10 further testament that this year is going to be different and there will be consequences for your actions, particularly if you lose at home. UCLA and Georgia lost at home and were dropped by 13 and 11 spots respectively. Although considered very tough road games the losses by Ole Miss and ND cost them 11 spots and 9 spots respectively. On the bottom have of the poll #19 Wisconsin, #21 Miss State, and #23 West Virginia all lost and will not be a part of the playoff festivities this year.
Now what's even stranger than Ohio State still being ranked number one after 3 consecutive lack luster wins, is the method to the polling madness. Florida looks like a team fit to be tied (no pun intended ) and headed south in the polls after a very lucky one-point win at Tennessee the previous week, but a win at home against a the Rebels gives the AP a selective memory and suddenly they get a 14 spot boost and now site all the way up at #11 and in playoff contention. Also this year the pollsters tell us that some days are better just to stay in bed than come to work. USC had a week off to bask in its blowout road win over ASU last week and sit back and relax as that same team they dismantled turned around and beat down their cross-town rivals UCLA whom previously held their highest seed in years at #7. Unfortunately that didn't impress the pollsters as much as Utah's day off as the Utes moved up 5 places despite being idle all the way up to #5, not to mention garnering seven first place votes. Some days it just pays to be lazy. Now all of the sudden that Michigan loss on opening day doesn't look so bad as Michigan is back in the mix at #18.