Apple Watch review: A Five Part Series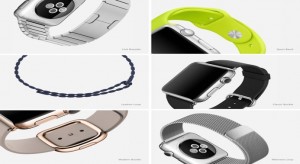 Part 1 Design
The Apple Watch is beautifully designed and engineered, with a great look and feel. Its chunky, rounded body is faintly reminiscent of the original iPhone, yet simultaneously modern-looking and very satisfying to hold. The Apple Watch is also pleasingly comfortable on the wrist.
We've seen lots of fitness trackers over the years, and they've typically struck us as pretty formulaic: plasticky wristbands with little fashion appeal. One activity tracker brand tried to convince us that their activity tracker was designed to appeal to the fashion-conscious woman; they even thought that women would wear it around their neck like a necklace. But at the end of the day it wasn't jewelry. None of the fitness trackers are.
It's a similar story with smartwatches. Sure, over the past year they've become more and more popular with guys looking for the latest tech gadget, but they don't appeal to everyone. One major issue is that most smartwatches are designed for men. They wouldn't sit comfortably on a smaller wrist.
This is where Apple, with its design expertise and its ability to appeal to the masses, comes in. Where other companies have failed to come up with a smartwatch design that suits anyone, Apple has solved the issue by coming up with multiple designs to suit everybody.