For the second time in as many years I've watched big name, big money, managers get make really bad decisions that caused his club to be ousted from the MLB playoffs or World Series. I understand the concept of being a "players coach" but that's the leverage you use to motivate your club through an 162 game season, not when it comes down to a 12 or 7 game playoff season. Last year, the Dodgers made it to the NLDS where they held home field advantage over t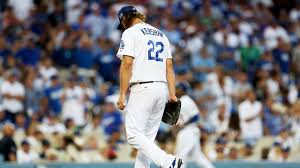 he Cardinals, had Cy Young award winner Clayton Kershaw on the bump, and a 7-1 lead. Now anyone who has watched baseball over the last two years knows that the Achilles heel of the Dodgers has been their relief pitching, but as bad as it may have been once CK's pitch count got into the red and they started sitting on the fastball because the breaking stuff wasn't getting over then Don Mattingly should have sat him down. This year I watched a repeat performance as Mets manager Terry Collins refused to listen to reason or his own head, and decided to listen to his ace Matt Harvey instead when he insisted on taking the mound to start the ninth inning with a 2-0 lead. The irony is, in both situations the Dodges and Mets had two of the best closers in all of baseball that they elected not to use.
Now I understand that it may be perceived as 'getting your players back' and it will go a long way in regards to "street cred" with the team but the manager is not paid to be everyone's best friend. In fact more often than not, it's not the most popular guy that gets the job done. I mean does anyone out there think Bill Belichick is being invited to any Patriots player's house for Thanksgiving dinner after their paying days are over? Certainly not. But if there was one guy that you could choose to lead your franchise into consistent winning is there anyone else you would rather choose? I'll tell you this much had Bill ben running the Dodgers last year they would have been up 1-0 on the cards with still 2 games to go in LA needing only to hold serve to move on to the NLCS, and the Mets would have at least been going back to KC down 3-2 but with starting pitching that would have given them a chance to win 2-straight. If Harvey wants to make up for loss earlier in the series let him sit down, rest up, then possibly come back in a crucial relief roll in either game 6 or 7.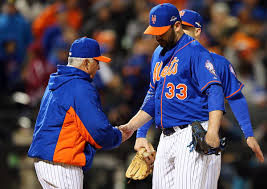 At some point in our lives our parents had to be parents and not friends for the betterment of our development and although it may have been considered "tough love" at the time it was done with our overall best interest at heart. The same is true for an MLB manager. At some point he needs to stop being 'one of the guys' and be the leader that he was hired to be, and that sometimes entails making tough love decisions in regards to sitting players, sending them down, suggesting trades, and shutting down pitchers that may want get a complete game when it's in the best interest of the freakin' franchise to go immediately to the closer, get 3 outs, and stay off elimination in the World Series. Sometimes it's better to be feared than loved.