The biggest stars of the box office this summer may be the smallest ever to hit the big screen as "Ant Man" and "Minions" continue to perch at the top of the box office charts with "Pixels" having an impressive debut with $24 million to come in at #2. Woody and may not grace the top of the charts like he has in the past but his film "Irrational Man" has star power and could be a great alternative to the films throwing haymakers. Although not your chick flick, "Southpaw" might surprise as it has a storyline that could appeal to many, but our recommendation is "Mr. Holmes" as we expect Ian McKellen to give a masterful performance and take us back to the age of gentlemen again, and believe it.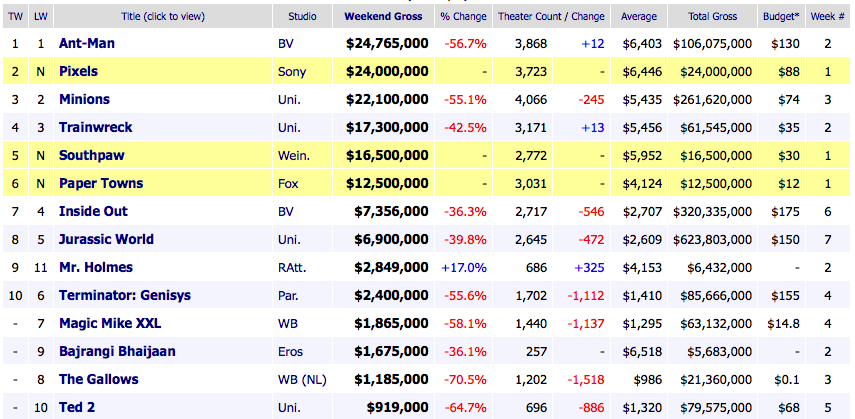 Although it may seem the hits have come few and far between this year but 2015 may go down as the best year for the box office in history as three of the top six all time worldwide gross films have come this year. Jurassic World has moved all the way up to the #3 spot, although a distant 3rd, to Titanic and Avatar. The most surprising entry of the top 10 is Furious 7 which continues to take advantage of the foreign box (76.8% of the entire gross) to climb up to #5. A testimony to the new age of the box office where the international box office has become more important that the domestic. The last member of the club already has a spot in the top 5 from its predecessor, as the sequel to "The Avengers", "Avengers: Age of Ultron" comes in at number six for all-time world wide box office gross.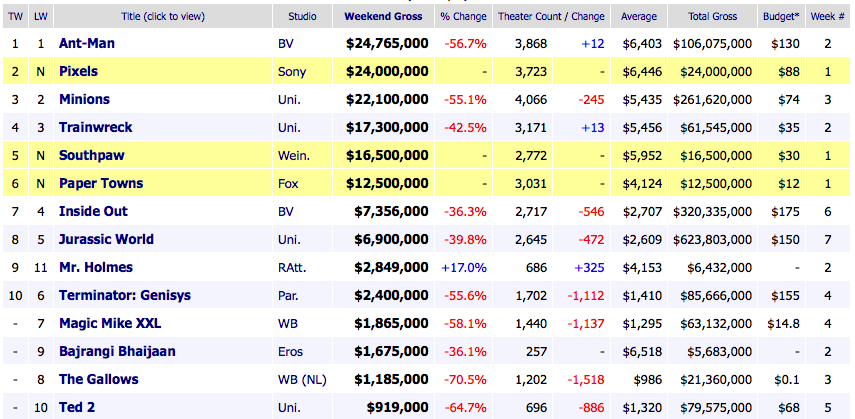 Here is the list of the films opening this week and for the rest of the month as we move onto the last month of Summer, headlined by the little big man that could.
July 17
Ant-Man
A master thief seeking redemption dons a suit that allows him to shrink in size but increase in strength to face down a new generation of threats. With Paul Rudd, Evangeline Lilly and Corey Stoll. Written by Rudd and Adam McKay. Directed by Peyton Reed. Walt Disney Pictures
Ardor
In the rainforest of Argentina, a mysterious man emerges from the jungle to help a tobacco-farming family threatened by land-grabbers. With Gael García Bernal and Alice Braga. Written and directed by Pablo Fendrik. Participant Media
Irrational Man
A tormented philosophy professor finds a will to live when he commits a crazy act to help a total stranger. With Joaquin Phoenix, Emma Stone and Parker Posey. Written and directed by Woody Allen. Sony Pictures Classics
Mr. Holmes
In 1947, an aging Sherlock Holmes faces the end of his days in a remote seaside farmhouse, where he begins to rely on his housekeeper's young son and revisits the unsolved case that forced him into retirement. With Ian McKellen, Laura Linney and Milo Parker. Written by Jeffrey Hatcher. Directed by Bill Condon. Roadside Attractions
The Stanford Prison Experiment
A dramatic account of the infamous 1971 psychology experiment in which 24 male undergraduates acted out the randomly assigned roles of guards and prisoners, embracing their roles to a shocking degree. With Billy Crudup, Ezra Miller and Michael Angarano. Written by Tim Talbott. Directed by Kyle Patrick Alvarez. IFC Films
That Sugar Film
A documentary exploring the prevalence of sugar in supposedly healthy foods and its potential effects. Directed by Damon Gameau. Samuel Goldwyn Films
Trainwreck
A hard-living men's magazine writer who doesn't believe in monogamy is thrown for a loop when she starts to fall for her latest profile subject, an endearing sports doctor. With Amy Schumer, Bill Hader and Brie Larson. Written by Schumer. Directed by Judd Apatow. Universal Pictures
July 24
Dark Was the Night
In a remote logging town, a sheriff and his deputy investigate a rash of increasingly violent and unexplainable events. With Kevin Durand and Lukas Haas. Written by Tyler Hisel. Directed by Jack Heller. Image Entertainment
The Look of Silence
A documentary following an Indonesian optometrist as he confronts the men who killed his brother as part of the country's mass killings of suspected communists in 1965. Directed by Joshua Oppenheimer. In Indonesian and Javanese, with English subtitles. Drafthouse Films/Participant Media
Paper Towns
When his enigmatic crush disappears after taking him on an all-night adventure, a dorky high school student follows a trail of clues to track her down. With Nat Wolff and Cara Delevingne. Written by Scott Neustadter and Michael H. Weber. Directed by Jake Schreier. 20th Century Fox
Pixels
When aliens misinterpret videos of classic arcade games as a declaration of war and use them as models for an invasion of Earth, an old-school joystick jockey is enlisted to fend them off. With Adam Sandler, Kevin James and Michelle Monaghan. Written by Tim Herlihy and Timothy Dowling. Directed by Chris Columbus. Columbia Pictures
Southpaw
When a lefty boxing champ known for his brutal but effective style suffers a personal tragedy, he teams with a hard-bitten former pugilist to fight his way back to redemption. With Jake Gyllenhaal, Forest Whitaker and Rachel McAdams. Written by Kurt Sutter and Richard Wenk. Directed by Antoine Fuqua. The Weinstein Co.
Unexpected
Surprised to learn that she's pregnant, a Chicago high school teacher embarks on an unlikely friendship with a student who has just landed in a similar situation. With Cobie Smulders, Anders Holm and Gail Bean. Written by Kris Swanberg and Megan Mercier. Directed by Swanberg. The Film Arcade
The Young Kieslowski
Two awkward virgins hook up, get pregnant and battle their neuroses while trying to figure out what to do next. With Ryan Malgarini, Haley Lu Richardson and Melora Walters. Written and directed by Kerem Sanga. Mance Media
July 31
Best of Enemies
A documentary about the infamous 1968 televised clashes between conservative William F. Buckley Jr. and liberal Gore Vidal and how they prefigured contemporary TV punditry. Directed by Morgan Neville and Robert Gordon. Magnolia Pictures
The End of the Tour
A dramatic account of the five-day interview between Rolling Stone reporter David Lipsky and novelist David Foster Wallace that took place shortly after the 1996 publication of the latter's groundbreaking book "Infinite Jest." With Jason Segel, Jesse Eisenberg and Ron Livingston. Written by Donald Margulies. Directed by James Ponsoldt. A24
The Gift
A young married couple's lives are thrown into a tailspin after a chance encounter with an old high school acquaintance. With Jason Bateman, Rebecca Hall and Joel Edgerton. Written and directed by Edgerton. STX Entertainment
A Lego Brickumentary
A documentary about the history and myriad uses of the popular snap-together plastic bricks. Directed by Kief Davidson and Daniel Judge. Radius
Lila and Eve
When the police drag their feet investigating a fatal drive-by shooting, two bereaved mothers take justice into their own hands. With Viola Davis, Jennifer Lopez and Shea Whigham. Written by Patrick Gilfillan. Directed by Charles Stone III. Samuel Goldwyn Films
Mission: Impossible — Rogue Nation
With the IMF disbanded, secret agent Ethan Hunt and his team face off against a shadowy group of highly trained operatives hellbent on creating a new world order. With Tom Cruise, Jeremy Renner and Rebecca Ferguson. Written and directed by Christopher McQuarrie. Paramount Pictures
Vacation
Following in his father's footsteps and hoping for some much-needed family bonding, a suburban everyman surprises his wife and two sons with a cross-country trip to an amusement park. With Ed Helms, Christina Applegate and Leslie Mann. Written and directed by Jonathan Goldstein and John Francis Daley. Warner Bros. Pictures
July TBA
Before We Go
A chance encounter in Grand Central Terminal sparks a nighttime adventure that changes the lives of two strangers. With Chris Evans and Alice Eve. Written by Ronald Bass, Chris Shafer, Jen Smolka and Paul Vicknair. Directed by Evans. Radius
Heaven Knows What
A heroin-addicted panhandler on the streets of New York City can't get drugs or her toxic boyfriend out of her system. With Ron Braunstein, Caleb Landry-Jones and Eleonore Hendricks. Written by Ronald Bronstein and Joshua Safdie. Directed by Joshua Safdie and Ben Safdie. Radius