It's that time of year again and the day you take down the Halloween garb it' time to start focusing on Thanksgiving and Christmas and that means cooking and usually for a larger audience tha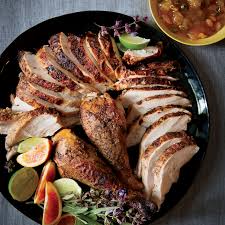 n usual. For those of us that do it every year, we're always looking to do something a little different, shake things up a bit. So each we try to give you at least one appetizer, main dish, desert, and a different way of doing the bird to make things interesting. So with the first of the big days a few of weeks away let's look at an alternative turkey recipe, not to replace the traditional but if the group is big enough, something to serve with it to add a little spice to the holidays. Our first entry is a Chipotle-Butter Turkey recipe.
We live in a very active neighborhood, you might even call it "old school" in the sense that, although you won't find us throwing "cocktail parties" in the 60's sense of the word nor do we have bbqs where everyone on the street participates, but most of us have been there for a while and know each others families. We are really big on decorating during the holidays, parents from outside the area bring their kids to trick-or-treat in the neighborhood and there are Christmas lights on every house. Accordingly, I look forward to the holidays and although I respect tradition, like to spice things up to it keep it from getting stale. So when thinking about the Thanksgiving menu, I always have the traditional baked and basted turkey but always have an additional type such as deep fried, cajon, or smoked. Everyone seems to like a little variety and with that in mind a chipotle inspired turkey should fit in very nicely.
Active Time 40 Minutes
Total Cook Time: 3.5 Hours
Serves 10-12 people
One 12-14 pound turkey
Kosher Salt
Pepper
2 sticks unsalted butter
1/3 cup distilled white wine vinegar
½ minced chipotle chiles in adobo
2 tablespoons minced garlic
1 tablespoon dried oregano
1 tablespoon chopped thyme plus 4 sprigs
1 garlic head, halved crosswire
1 lime, quartered
4 oregano sprigs
3 cups chicken stock or low sodium broth
Season the turkey inside and out with salt and pepper. Transfer to a rack set in a roasting pan and let dome to room temperature.
Meanwhile, preheat the oven to 400 degrees. In a medium saucepan, melt the butter. Whisk in the vinegar, chipotles, minced garlic, dried oregano and chopped thyme, let cool slightly. Transfer half of the chipotle butter to a small bowl and refrigerate until spreadable, about 20 minutes.
Run your fingers under the turkey breast and thigh skin to loosen it, then spread the chilled butter under the skin and over the breast and thighs. Stuff the turkey cavity with the head of garlic, the lime wedges and the thyme and oregano sprigs. Dampen an 18-by-18-inch double layer piece of cheesecloth with wear and squeeze dry. Soak the cheesecloth in the remaining chipotle butter and drape it over the breast and legs. Pour any remaining butter on top.
Roast the turkey for about 30 minutes. Add the stock to the roasting pan and continue to roast for about 1 hour and 45 minutes longer, rotating the pan a few times, until an instant read thermometer inserted in the inner thigh registers 165.
Carefully peel the cheesecloth off the turkey. Transfer the turkey to a cutting board and let rest for 30 minutes. Kim the fat off the pan juices and transfer to a gravy bowl. Carve the turkey serve with pan juices and your favorite Nero d'Avola.