Admittedly I originally only picked up this book because I found out the true author was the one and only JK Rowling and I am a definite Potter fanatic. She wrote this under the pen name of Robert Galbraith in the hopes that it would be better accepted than her previous novel The Casual Vacancy, which sounded dull to me from the start. However, I do love to read almost all types of books so I thought why not try this one.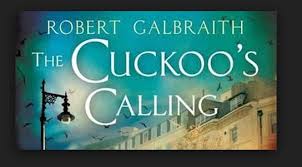 If you are like me with the advent of kindles etc you never truly pay attention to how long a book is; since you aren't physically holding it in your hand so you buy it and assume it's a reasonable length. Wrong! This book is long. It really drags at some places and I know the "devil is in the details" or whatever the saying is but there were too many details. The strange part is even with all these details the only character I really wanted to meet and felt passionate about was the victim of the crime who you never get to meet. The main character, Strike, is a washed up detective who is not so washed up but is not all that interesting and his trusty administrative assistant is just sort of there. The blank detective is portrayed sort of as the "Matlock" type detective asking seemingly random questions that couldn't possible have any baring on the case but in the end reveals that minute detail holds the answer to everything.
After 464 pages, which I actually had to look up to see truly how long it was, I do think the ending was good. There has to be a surprise twist or it wouldn't be to much of a mystery right?. I think the twist was delivered yet it still had some of the expected endings and tying everything up in a nice neat bow which I know some people like but not me.This book has gotten some serious praise and a best book of the month award from Amazon but at 464 pages it is not easy to get through. Don't expect this to be one of those page turning can't sleep because you want to know what happens next books. Its good but at almost 500 pages I would say get the audible version and listen to it in traffic.