– A follow up to "The Shave Wars" –
Early in June we recorded a piece on how Dollar Shave Club (DSC) has become a disruptive technology/service in the men's grooming industry, and now they're cleaning up their act even more. After having an additional round of funding that was very successful, 75 million in total, the company is now valued at close to $615 million. The new funding came from a syndicate comprised of Technology Crossover Ventures, Dragoneer, Comcast Ventures, and Forerunner Ventures.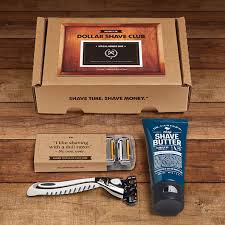 The valuation comes after the Venice, California startup completed that last round of funding, bringing it's total to $148 million from investors and the sentiment among those investors is quite positive as the company generated $140 million in revenue this year alone in comparison to last summer when the company had just under a million subscribers and annual revenue of $60 million. Now keep in mind that this is a 'top line' revenue number and the when truly evaluating the intrinsic value of company you must consider all of the other components of the balance sheet including the cost marketing, logistics, procurement, manufacturing, etc. and the "devil is in the details" as they say on Wall St. but what can't be denied is that this company made a big splash and by definition the disruption has caused others like Gillette to change their business model.
Looking at DSC for an investment standpoint is one thing, and who knows if they will get "steam rolled" by the big boys whom have a much larger distribution networks and ability to scale. However the angle we're presenting to our readers is how will this growth and attempt to scale effect the quality of the product, delivery, and consistency of DSC. As a member myself I will be paying close attention to see if they become what they beheld in the process of achieving their growth aspirations.