For those of us that like the heat we have been treated to the warmest Summer on record in most places, and although we may not hit the previous highs it seems because it's taking so long to cool down we may have a couple of extra "Summerlike" weekends left, kind of like extra innings in baseball. So if we have one or two more free Summer weekends let's make the most of them and I rediscovered a drink I had on vacation once and then a few variations of it and thought although not the easiest ingredients to find an your local supermarket Caipirinha is perfect to drink in the heat. Much like Gin, it doesn't give you the splitting headache and can be mixed easily and in multiple ways. Not to mention falling on the lighter side of the calorie count. So here are some Caipirinha recipes that can make for a great cocktail hour, opening act for brunch, or a great aperitif.
As the national drink of Brazil, caipirinha, which roughly translates from Portuguese to "country bumpkin," is believed to have originated in São Paulo around the end of World War I. During this time, the Spanish flu was running rampant, and the cocktail's combination of cachaça (a sweet Brazilian rum made from pure sugarcane juice rather than molasses), green lemon, garlic, and honey served medicinal purposes, easing the effects of the illness. Although cachaça is still the star of the drink today, you won't find any honey or garlic. Instead, this sweet and tart cocktail is made with fresh lime, sugar, and ice. To celebrate Brazil, we've put together a list of three caipirinha drink recipes: the tried-and-true classic, a marvelous mango variety, and one that's irresistible with passion fruit. In other words, time to samba, with one of the best Summer drinks.
First the classic Caipirinha that although not a voluminous drink it sips well and has a little bite. We've laid out the path for you to illustrate the simplicity once you get the ingredients.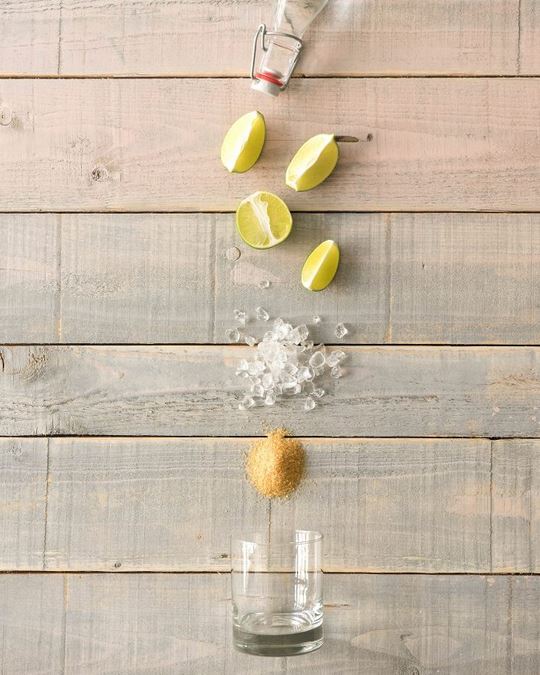 Ingredients for the basic Caipirnha

2 Ounces Cachaça
1/2 Lime (cut into wedges)
2 Teaspoons Raw Sugar
1 Tablespoon Fresh Lime Juice (optional)
Crushed Ice
Lime Slices (to garnish)
Instructions
Using a cocktail shaker, combine the lime wedges with the sugar. Use a spoon (or muddler if you're feeling fancy) to gently crush and squeeze every last drop of juice from the limes.
Add the cachaça and extra lime juice. Shake well. (At this point, we turn on some music and starting shaking to the beat, but that's just us.)
Pour the drink with the muddled limes into a short glass with crushed ice.
Garnish with a lime slice and serve immediately.
Now that we've got the basics covered, for those of you to live on the edge here are some variations to basic drink that can make you look like a rock star. The Mango and Lime Caipirinha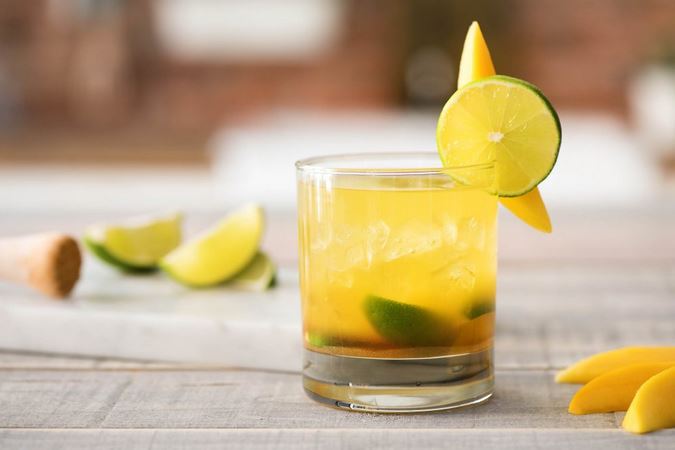 Ingredients for the Mango and Lime Caipirinha

2 Ounces Cachaça
1/2 Lime (cut into wedges)
2 Teaspoons Raw Sugar
2 Ounces Mango Juice
Ice
1 Fresh Ripe Mango (peeled and sliced)
Instructions
Add the lime wedges and sugar to an old fashioned glass. Use those muscles to crush with a muddler.
Add a splash of mango nectar, to taste.
Come on, add a little more. You know you want to.
Load in the ice and pour in the cachaça.
Garnish with a slice of mango and a wedge of lime.
Once again, a slight variation but big results the Passion Fruit Caipirinha
Ingredients
2 Ounces Cachaça
1/2 Medium Passion Fruit
2 Teaspoons Raw Sugar
Crushed Ice
Sugar Cane Stick (for garnish)
Instructions
Scoop out the flesh and seeds of the passion fruit. Transfer to a mixing glass or cocktail shaker along with the sugar and cachaça.
Shake over ice and pour into an 8-ounce glass.
Garnish with the sugar cane stick to make it extra beautiful.