Travel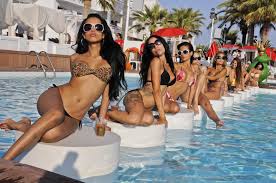 On the West coast it seems whenever adults plan a long weekend and the intension is to let off some steam, or cause a little of their own, the choice is often Las Vegas. It seems to possess the perfect combination of daytime pool enjoyment and nightlife when the sun goes down. Anyone who has had the opportunity to experience Sin City knows they also have excellent dining, shopping, and luxury hotels for complete the experience. Unfortunately for many in the US, Nevada is a bit too far away to plan a vacation under a week so Vegas isn't a top option. Across the pond in Europe they have a similar destination, one who reputation actually eclipses Vegas in stature, and public knowledge of a frolicking destination to "leave it all out on the pool". Like Vegas, you've heard the name and now we hope to give you with a little in depth look at Ibiza, a little island 60 miles off the coast of Spain, better known as "The Rock".
The first important thing to remember about Ibiza is that the pictures of the wild clubs, perfect topless beaches, and breathtaking views, is all true. It will seem like an Island built for adults to come and play but in an area a little remote that by the time you get back to your normal life, what happened in Ibiza will stay there because you've probably forgotten it by the time you get home. It's too much to cover in one post so we'll break it down over a few days, but we're going to throw you a curve ball and although you may not be going for the sightseeing if you need a break from the what will surely be ballistic nightlife then here are some ideas of things you can visit on the island that won't be accompanied by a cocktail, unless you pack your own!
For a small island Ibiza has plenty to show you on your holiday; beautiful beaches, enchanting countryside, history and culture. In land you will find beautiful white washed villages, each with their own ancient church. Explore the narrow lanes, browse the local shops and then enjoy a lazy lunch on a shady terrace.
Hippy Markets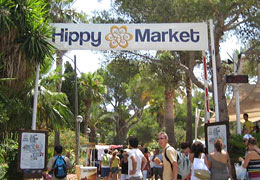 A visit to one of the famous Hippy Markets is a must. At the markets you have an enormous variety to choose from: the most exotic batik wraps and clothing to tailor-made leather moccasins and a tantalising variety of East Asian silver jewellery and trinkets. If you look around you can still find some of the original hippies, although most of them have grey hair by now!
Las Salinas Salt Flats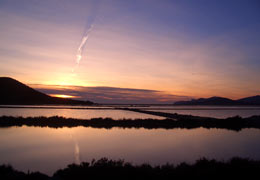 One of Ibiza's most famous landmarks. On the southern most tip of the island, the salt fields have been in use for over 2000 years. As the water evaporates during the hot summer months, a sparkling layer of pure salt is left on the bottom of the lakes. One of the most beautiful spots for sunset photos.
Ibiza Town
Ibiza Town's romantic Medieval castle, Dalt Vila, is a must see for all visitors to Ibiza. Later at night, enjoy a cocktail in the buzzing port area and see the best of Ibiza by night.
Can Marça Caves
Breathtaking sea views as you descend seeply to the entrance. Enter this multi-level, yellow-gold world, plotting the smugglers' ancient route with a multilingual guide. Mysteriously, silently over eons, stalagmites and stalactites have formed into figures, temples and rocket stations. At the heart is a spectacular Music & Light Show with a 30 ft. cascade of diamond-bright water. Open all year. Tours hourly, summer from 10.30 – 19.30 h, winter from 11.00 – 17.00 h. Tel.: 971 33 47 76. By Puerto de San Miguel Beach.