Years ago Calvin Klein broke barriers with a pants dropping campaign featuring celebrities from both music and film that may have shocked many but a ton of guys were suddenly packing Calvins and weren't afraid to let their jeans ride low so everyone knew about it. Suddenly it's not so taboo to talk about what you wear under your denim, much like socks have suddenly come out from under the shadow of the pant leg to become more than a fashion statement but the mark of a well-dressed man, your choice of briefs or boxers has as well and today there are several designers who are putting the word out that they are setting the new bar for comfort and style and here are the ones we think are leading the pack.
Mack Weldon – By far the most stylish of those we sampled. Not only was there careful consideration to the colors pallet, which is substantial, but more than minimal attention to detail make them a cut above in regards to style. Stripes in various colors, detailed waste-bands, and tailored fit makes them among the best in show as well as comfort.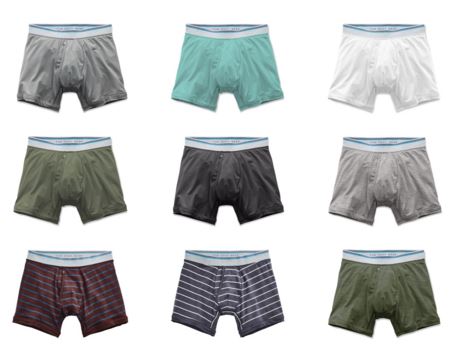 Tommy John – Using a marketing strategy that is going after the 'man's man' by focusing its marketing efforts and sports radio and sporting event commercials while attempting to separate itself from those trying to be the model's choice. Despite the normal commercials they are far from basic when it comes to colors including lime, yellow, powder blue, day glow green, and purple to name a few, but their best sellers are the basic blue, grey, and black mid-length boxer briefs. Their niche is a tight fit that doesn't cringe up and projects the feeling of not wearing anything.
Duluth trading company – You are more than familiar with their funny cartoon commercials at this point so in that regard they served their purpose but it's hard not to think when you go to the website that buying gear to go on a camping trip with. The 411 is that they do back up their advertising by being very comfortable, the colors are pretty basic and conspicuous threading may not be what you are after if you want a sleek look, but they are versatile enough for casual and sports. Some have posted that they run a little large so size down.