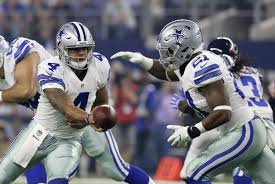 Hard to believe the NFL Season is a third of the way over as it seems like just yesterday that each day the sports segments started with a story about Peyton Manning going out on top or weather Tom Brady was going to sit, sue, or defend. Now as the leaves turn brown Peyton has ridden off into the sunset and Tom elected to sit but has come back and not seemed like he missed a week. However the biggest news of the 2016 season has been the slow start of some of the favorites which now is starting to look like most of them will not even be in the playoff picture in a couple of months. Starting with both Super Bowl participants from last year the Panthers have started off 1-5 and are watching their chances to return to that perch exponentially diminish with each passing week, to make matters worse the Falcons conversely are playing better than anyone expected and lead the division at 4-2 already and five of the Panthers next six games are against teams that are .500 or better. They are coming dangerously close to textbook example of the "Super Bowl Hangover".
On the other side the Broncos are quickly learning that they can't win with just anyone at quar
terback and that their defense can't win 11 games by themselves to get them in the playoffs as Trevor Siemian has quickly come back to Earth after winning their first two games and now are at 4-2 with five tough games upcoming. Behind them the next biggest disappointment have to be the Cincinnati Bengals, many pundits uncrowned AFC champion after their mental meltdown to close the season last year, has continued their ways (by the way Vontaze Burfict is up to his ol' tricks) and now find themselves at 2-4 with a brutal AFC North schedule staring them down. Next in line is the pre-season Super Bowl fav from the NFC the Arizona Cardinals. It started with an opening night loss to the Brady-less Patriots which showed how far they need to go to really be considered as one the League's elite. At 3-3 they still are a strong pick to take a Wild Card ticket but now their path will go through Seattle which is a road that does not end well for most. I know we're only six games into the season but unless we see some uncharacteristic mid-season changes it's looking like it will not be the usual suspects in the playoff tree this season.